eczaspracy.pl
Report working time – bill projects
Register working time
A simple and user-friendly service for ongoing monitoring and recording of employees' working time. The data can be used, among others, to estimate labour costs for offers and to manage the work of project teams.
Optimise costs
Reducing the time in which employees perform their daily tasks in a standard way increases work efficiency. With this optimization, your company can earn more.
Find out more at eczaspracy.pl
Efficient use of working time is increasingly important in optimizing personnel costs and the speed of project implementation, and thus can determine the competitiveness of the company. However, most of the advanced working time management solutions are perceived as complicated and require additional time to operate them.  Therefore, very traditional ways of recording working time (e.g. "on a piece of paper", in Excel) are still used, which give a great ease in entering data, but make the subsequent processing of this data incredibly complicated. However, we decided that the knowledge of how much working time is required to complete individual projects, who works in them, etc. is so important that it is worth creating an application that will not be burdensome in everyday use by employees, and that at the same time will:
ensure better management of project teams' working time
allow ongoing monitoring of project workloads (project progress)
enable the estimation of labour costs for the offers
facilitate the analysis of the cost-effectiveness of individual projects
improve self-discipline among employees
The application is not intended to invigilate employees, but only to enable reliable billing of projects/costs in the company, which is positively received by employees. The systematic filling in of electronic time sheets by employees encourages self-control and improves the efficiency of project teams.
How does our working time registration work
we enter in the application all projects and sub-projects that are carried out in the company; the project also includes administrative and organizational work, and even holidays
each company employee enters how much time he or she has spent on each project each day; he or she can enter time from the keyboard or easily select an option from a list
if a large number of projects has been defined, everyone can choose only those in which they participate - mark them with an asterisk as a favourite and the list will be adapted to their needs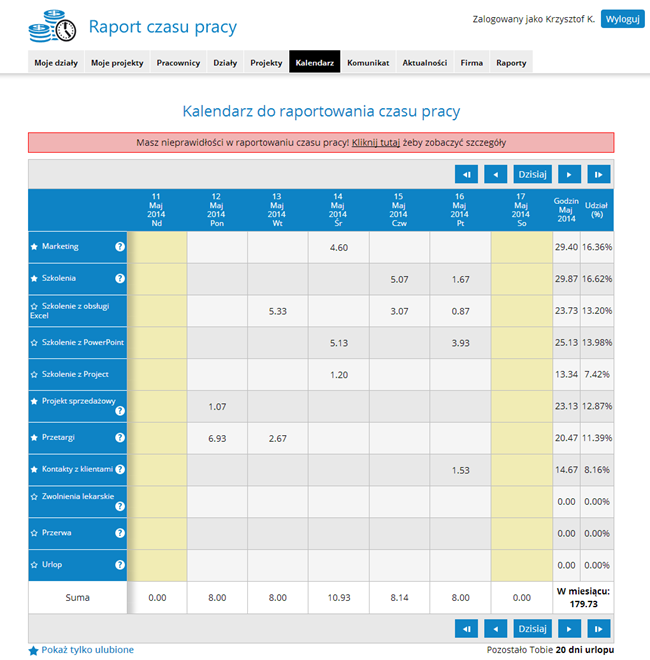 each employee can check how much time he or she has spent on individual projects and what part of his or her total time it represents - managing their own time becomes much simpler and more conscious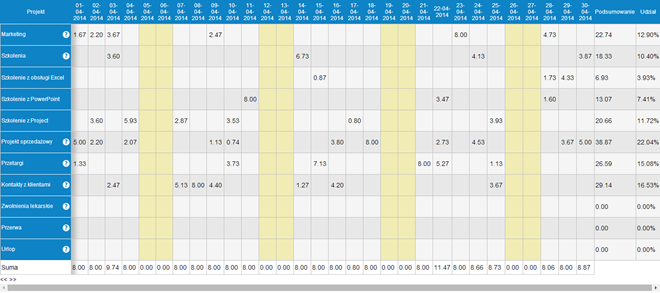 project leaders and managers can additionally monitor the involvement of individuals in their projects over a selected period of time - they can only view the time spent on their projects
heads of departments have the opportunity to view full working time reports of their departmental employees
data can be exported to external applications, or summary reports can be generated in Excell
employees can easily verify the number of days of their holiday paid leave they have left
For whom
The answer should be "for everyone", as project work / project group work has become a standard in every field at every level, so just a few examples:
persons implementing projects with EU funds
advisers, consultants, analysts, experts
designers, architects working for several customers
lawyers
lecturers
companies operating within a design team